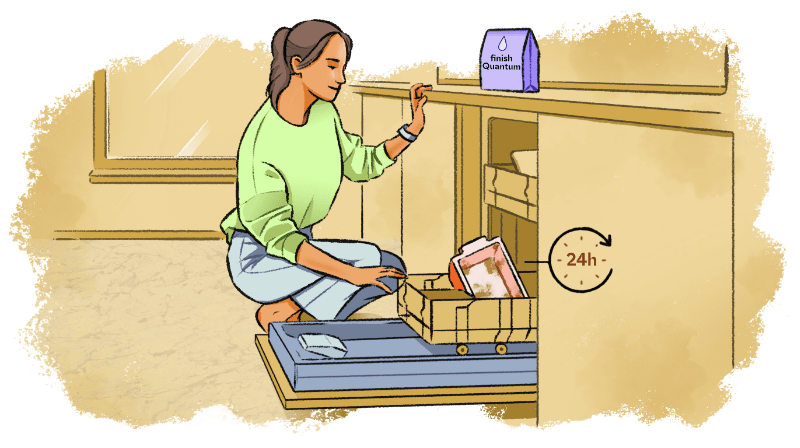 How gamification is changing wasteful dishwashing habits
Reckitt Benckiser's dishwasher tablet brand debunks pre-rinsing myths with the "Finish 24-Hour Challenge"
What unsustainable behavior needs to change:
In the U.S., the widespread practice of pre-rinsing dishes before using the dishwasher stems from ingrained beliefs and poses a significant concern for water conservation. Each pre-rinse consumes up to 20 gallons of water. When scaled nationally, this amounts to an alarming potential wastage of 150 billion gallons annually. In a country where 40 out of 50 states anticipate water shortages and half of the freshwater basins might struggle to meet monthly demands by 2071, such practices demand rethinking.
Several cognitive biases could potentially cloud people's decision-making processes. Misinformation and a lack of knowledge often lead them to believe that dried-on food won't come off without pre-rinsing. They can also be influenced by the "anchoring effect," which causes undue importance to be given to initial information – such as the belief that pre-rinsing is necessary. Moreover, the "effort justification bias" might cause some to rationalise the additional work involved in pre-rinsing. Later, these beliefs are reinforced by the status-quo bias and social norms bias, leading many to adhere to the practice and follow perceived societal norms, thereby perpetuating this water-wasting routine.
The Green Nudge:
The dishwasher brand, "Finish" launched the "Skip the Rinse" campaign to nudge people away from pre-rinsing. To maximise the reach and impact of their message, they partnered with influential organisations like National Geographic, WWF or The Nature Conservancy.
To debunk the pre-rinsing myth, Finish introduced a gamified approach: the 'Finish 24-Hour Challenge.' Consumers were asked to cook a lasagne, leave it to dry for 24 hours, and then load it into the dishwasher. If their product didn't completely remove 24-hour dried-on stains, the company committed to covering the cost of the meal. Through gamifying the process, they aimed to challenge existing misconceptions and engage consumers in a fun and interactive way.
The result: The "Skip the Rinse" campaign has effectively driven behavioural change and aligns with Reckitt's larger sustainability goals. From 2015, there's been a 5% decline in their water usage per tonne of production, showing consistent movement towards their 2025 objective. Notably, although manufacturing accounts for less than 1% of their water footprint, a significant 94% comes from direct consumer use. This highlights how campaigns like "Skip The Rinse" can play a key role in shaping consumer habits, leading to more substantial conservation outcomes.
Are you aware of any other nudges that use gamification to conserve water? Feel free to comment or get in touch: hello@green-nudges.com
From Swati Gupta who is graduate in behavioural and economic science from the University of Warwick, Swati went on to join the Warwick Behavioural Insights Team (WBIT) as a researcher. There, her focus was on using behavioural science techniques to improve student sleep patterns. With a foundation in grassroots education through Teach for India, she is passionate about merging sustainability governance, reporting, and assurance with the principles of behavioural science.
Next Nudge

Conserving Savoie's mountain lakes with a splash of humour
French Savoie's witty nudge signs humorously engages visitors, effectively discourages swimming and preserves a fragile ecosystem
Read more